Our BSS burn-through barrier for pillar candles is effective and saves resources at the same time: an aluminum disc pressed into the candle base effectively prevents the flame from spreading to the floral arrangement or material underneath the candle, e.g. B. a tablecloth. When the candle has completely burned off, the wick tilts onto the aluminum disc and goes out in the still liquid wax.
No reduction in burning time
The special thing about the BSS burn-through barrier is that the pillar candle can practically burn completely – this is worth mentioning, because compared to other systems, this results in a significantly longer burning time with the same candle size.
But that's not all. The pillars with BSS burn-through barrier can be processed like normal pillar candles: wire, glue, mandrels or simply place them on a stable surface – you can do all of this with BSS pillar candles. The burn-through barrier is registered as a European patent as well as a patent for other non-European countries.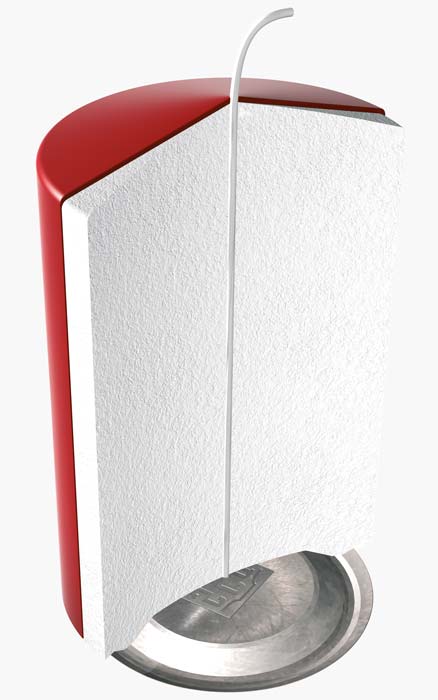 1
A thin aluminum disc is pressed into the bottom
2
The slightly raised bottom reduces the heat under the candle
3
The wick reaches to the bottom, the candle burns completely.
4
The pillar candles are coated in color
5
The core consists of paraffin, stearin or special mixtures.
Our video explains the BSS burn-through barrier
Protection of the underground
The candle burns completely
Factory & Correspondence Address
Headquarter
Mueller Fabryka Świec S.A.
Biały Bór 211, 86-302 Grudziądz