Our products have the RAL quality mark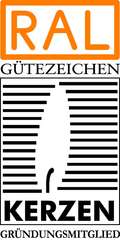 Guaranteed safety: The CANDLE quality mark is a trade mark protected quality mark. The RAL Deutsches Institut für Gütesicherung und Kennzeichnung e.V., (the German quality assessment and labelling institute) is responsible for the monitoring of the proper use of quality marks in Germany. The CANDLE quality mark was recognised in August 1997. The quality mark is awarded exclusively by the Gütegemeinschaft Kerzen e. V., of which we are a founding member.
A manufacturer must only label a product with the quality mark if it has passed a qualifying examination. The examination conditions are specific, objective and clearly defined. In order to guarantee a durable high level of quality, the manufacturer is also obliged to carry out regular monitoring of the product.
Quality and safety are very important to us, which is why we only use high-quality raw materials and check the burning behavior and drip resistance of our candles during the entire manufacturing process. Of course according to the RAL standard, but also beyond that according to our own, even stricter specifications. This is how we maintain a consistently high level in the quality of our products.
We operate one of the most modern laboratories in Europe
We are convinced that constant research and development is an important factor for the sustainable success of our company. That is why we have set up one of the most modern candle research laboratories in Europe. Here we develop new ways of making candles and work on increasing the efficiency and environmental compatibility of our products and packaging. At the same time, we achieve a high security of supply through alternative raw material components.
Candles with the RAL quality mark are characterised by
Optimal burn-up behaviour
Minimal drips and high quality wick free from impurities
Smoke free burning
Low air and lung pollution, less soot when using tested tea lights
Adherence to the health and environment limits for all ingredients, especially paraffin, wick, colours and paint
No health issues if used as intended
Minimal smouldering
Suitable wick
Guaranteed burning time
Adherence to the REACH regulation